New Braunfels TX Homes for Sale
Homes for Sale New Braunfels TX
Welcome to New Braunfels just outside San Antonio. I'd love to help you find your perfect home, condo, duplex, townhouse or lot in the New Braunfels area! Start here with all the latest listings in the area or below the listings you'll find all the individual neighborhoods in New Braunfels. Whether you know exactly what you want, are just starting the process or haven't the vaguest idea of where to begin, I can help. Call me anytime at (512) 644-9962 to get started on the path! Don't worry if you don't know where to start; THAT'S MY JOB!
If you would like more information on any of these New Braunfels real estate listings, just click on a property to access the full details. Schedule a showing or tour, find out more on the property or simply contact me and let me do all the hard work of finding the perfect home in New Braunfels and surrounding areas.
If you'd like to be notified immediately when a new listing hits the market register for a free account to receive email alerts or save your favorite properties for later. Read on below the listings to learn more about relocating to New Braunfels.
Below are all the New Braunfels TX homes for sale
New Braunfels Homes for Sale
December 2, 2023
Search All New Braunfels Neighborhoods
Relocating to New Braunfels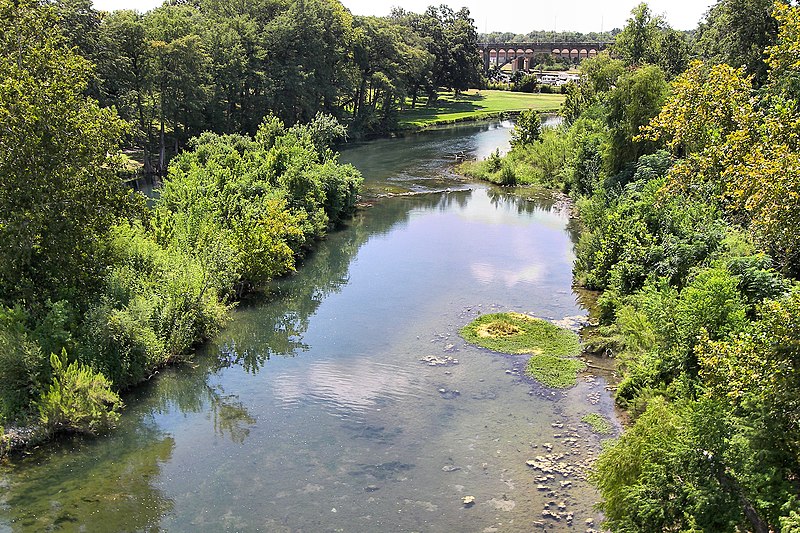 The city of New Braunfels, situated in Comal and Guadalupe counties in Texas, is renowned for its German Texan culture and serves as the county seat of Comal County. Encompassing an area of 44.9 square miles, the city's population is approximately 90,403. New Braunfels is located just north of San Antonio and is included in the Greater San Antonio metropolitan area. From 2010 to 2020, it ranked as the third-fastest-growing city in the United States.
New Braunfels, TX was ranked as one of the top 50 places to live in the U.S. by Money Magazine in 2021, highlighting the city's affordable cost of living, cultural richness, thriving job market, and ample opportunities for outdoor recreation. The article shed light on what the locals have known for years - New Braunfels is an exceptional place to call home!
New Braunfels Job Market
According to Money magazine, New Braunfels has been recognized as one of the best places to live due to the city's projected 17% employment growth by 2025. The article highlights that job opportunities are on the rise, particularly in the flourishing tourism industry, local hotels, retail stores, and restaurants. In addition, healthcare, construction, and manufacturing also offer significant employment prospects. Furthermore, the recent announcement by Continental, an automotive company, to construct a factory in the city, is set to create an additional 130 job opportunities in the area over the next few years.
New Braunfels Schools
Most New Braunfels schools receive top marks and reviews by parents, teachers, and students alike. The majority of the city is divided between two independent school districts - the New Braunfels Independent School District and the Comal Independent School District. However, some small portions in Guadalupe County fall within the Marion Independent School District and the Navarro Independent School District.
Within the city limits, there are two conventional public high schools along with a freshman center. The public high schools include New Braunfels High School, Canyon High School, and Alamo Colleges-Memorial Early College High School. Additionally, the city boasts two private high schools: New Braunfels Christian Academy, which caters to K-12 students, and the Calvary Baptist Academy.
Fun Things to Do and Facts about New Braunfels
We are home to Schlitterbahn! Need we say more? Okay, maybe we do. Schlitterbahn New Braunfels is a popular summer attraction that features on every Texan's bucket list of things to do near San Antonio. Known as the World's Best Waterpark, it offers a vast range of river rides, pools, waterslides, and adventures that cater to all levels of thrill-seekers. The park is divided into four sections, each of which is as large as most regional waterparks and includes a swim-up bar, lazy river, children's area, and unique signature attractions.
The Schlitterbahn New Braunfels Waterpark Resort has become a preferred summer vacation spot for families. It boasts seven distinct accommodation styles, ranging from basic hotel rooms to multi-room vacation homes. If you stay during the water park season, your reservation will include waterpark admission. The resort is open year-round and offers endless fun in the beautiful Texas Hill Country.
New Braunfels is also known for several attractions that draw visitors from far and wide. The city boasts several historic sites, including Gruene Hall, Texas' oldest dancehall, and Naegelin's Bakery, Texas' oldest bakery. The city also hosts Wurstfest, a 10-day festival celebrating sausage. Visitors can also explore the nearby Natural Bridge Caverns and Wildlife Ranch or hit the slopes at the Texas Ski Ranch. These attractions have earned New Braunfels a reputation as a top tourist destination in Texas.
What's it Like to Live in New Braunfels Texas?
One of the top places to live in the county, New Braunfels has some amazing residents. But don't take my word for it; here's what the locals say:
"New Braunfels is an amazing small community that prides itself on promoting a family-friendly environment. It hosts many local events, including farmers' markets, Wasailfest and Wurstfest. Once you have visited, you will definitely want to return!"

"New Braunfels is a beautiful town full of wonderfully diverse people, gorgeous scenery, and lots of fun activities! I was born and raised here in this town and have chosen to raise my own family here. Although it is growing drastically, the core values and the beautiful people remain constant.


In my over 30 years here, I have attended countless local events that support our town's values and its people. Our town hosts a "German salute to sausage", or Wurstfest, each year as a nod to a German heritage. In recent years, we have celebrated Dia de los Muertos as a salute to our Hispanic heritage and culture. Both of these events bring people to together in celebration of our diversity. Being from both cultures, I appreciate the chance to celebrate this history and be a part of helping it continue. I love this town and its people immensely, and there is no where else I'd rather be!" - Niche.com
Houses for Sale New Braunfels TX
Did you know that 63% of New Braunfels residents own their own homes? This means there are a variety of home styles and prices to choose from. New Braunfels offers a diverse range of properties to suit every lifestyle and preference. For those with multiple vehicles or a need for extra storage, 3-car garage homes are available. Security-conscious individuals can choose properties with controlled access. Those who enjoy relaxing and lounging by the water can opt for properties with inground swimming pools. Homebuyers can select from either one-story or two-story properties, depending on their needs.
Additionally, the option to search by property type allows prospective buyers to narrow down their search to condos, garden or patio homes, luxury homes, new construction homes, or townhomes. With such a varied selection of properties, homebuyers are sure to find their dream home in New Braunfels, Texas.
For more information on homes for sale in New Braunfels and surrounding areas, feel free to browse all the listings, contact me below, or even learn more about New Braunfels with our blog here:
From Our Blog - New Braunfels
Let's Talk! I'd Love to Be Your New Braunfels Real Estate Expert!
Image Larry D. Moore, CC BY-SA 3.0 <https://creativecommons.org/licenses/by-sa/3.0>, via Wikimedia Commons | Tomás Del Coro from Las Vegas, Nevada, USA, CC BY-SA 2.0 <https://creativecommons.org/licenses/by-sa/2.0>, via Wikimedia Commons